Nitto's adhesive technology has achieved a an adhesive that does not fall off
but can be peeled off easily
This athletic tape is called kinesiology tape, and was developed for practitioners of the kinesio taping method. It is not used to secure joints to limit the movement of the joint. This tape is used to practice kinesiology, lifting skin by sticking tape along the muscles so it can stretch and shrink to the same degree as the muscles, and restore the elasticity of muscles that have stretched too much or contracted completely to their normal state.
Since adhesive tape is being directly applied to the skin, the product requires a high level of adhesive technology that can continue being used even after being applied and removed, as well as less effect on the skin and pain when being removed. Mr. Hamada of the Tohoku plant of Nitto Denko Corporation was involved in the development of this adhesive.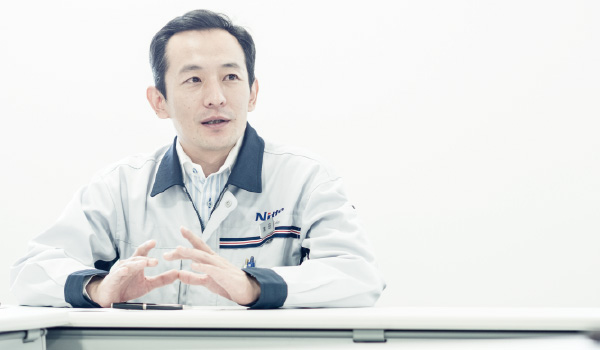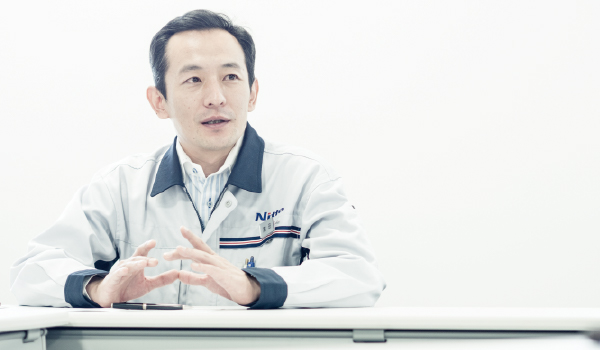 NITTO DENKO CORPORATION, Medical Related Products Div.,
Atsushi Hamada, Group Manager, Material Development Group
"The development of adhesives with less irritation to the skin than conventional kinesiology tapes was a highly challenging hurdle, but we had an enormous amount of material data at the time we developed YU-KI BAN® low stimulus tape for medical use. In fact, in the materials we rejected in the development at that time, was the key to the answer about the adhesive we should use for Nitto Kinesiology Tape EX. It took courage to go back along a road already traveled, but without doing so successful development would have been impossible." (Hamada)
We finally found the answer by repeating experiments on an enormous number of combinations. We were able to develop an adhesive that was gentle on the skin and can be repeatedly applied and removed without losing its adhesive strength thanks to our vast amount of knowledge about adhesives that we had accumulated so far and the tenaciousness of our developers.